The founder of Simon and Mary hats have reinvented an old tradition for a new generation of hat-wearers.
Dean Pozniak had been working in the family business, a hat factory in Denver, south-east of Joburg, for some years when his thoughts began turning to the factory's heritage. In the middle of this industrial area, on the façade of an unassuming building, a spectacular wall covered in hundreds of individually crafted, handmade tiles, each with a face on it, marks it as different from the other factories and warehouses around it. "They were put there when the building was extended in the late '50s," says Dean, but no one seems certain who made them.
Inside, the factory is a kind of steampunk fantasy – except it's real. A range of incredible steamers, presses and dying machines, and rows upon rows of wooden hat blocks, have been in continual use here for more than 50 years. "Those machines are still rock 'n rolling," he laughs. (They recently had to call two technicians out of retirement to come and fix one of the machines – no one younger knew how.)
INSIDE, THE FACTORY IS A KIND OF STEAMPUNK FANTASY, EXCEPT IT'S REAL
Dean's grandparents, Simon and Mary Pozniak, founded the company, and it's still a family business. Dean's father, uncle, cousin and Dean himself run various divisions. "We've been making hats since the '30s," he says. Some of the staff have worked in the factory for more than 30 years. "There's one man, Alfred Manyoni, who's been here for 60 years," says Dean. It's not surprising he began pondering heritage as men like Alfred near the end of their working lives.
Dean began from the ground up when he joined the business. "I packed boxes, working in the warehouse," he says. "I worked on the machines for a couple of months. I loved being in the factory. Even the smell of the dye and the wool. I think it was partly nostalgic, because I spent so much time here from a young age. My father used to come home from work and bring that smell in."
His lightbulb moment occurred when he came across a heritage denim brand, and realised he could do something similar with hats. (The fact that people like Pharrell Williams were making hats popular with a new generation helped.)
Dean began exploring the history of the factory and the hats. "Our original business was felt hats," he says. There was one particular brand the factory produced that hadn't changed its catalogue in more than half a century. "They just kept the same styles for decades," he says. With the factory equipment dating back so far, Dean had instant access to the styles, shapes and forms.
THE BRAND SIMON AND MARY WAS NEVER AROUND," EXPLAINS DEAN. "IT WAS SOMETHING I CREATED TO TELL A STORY I FELT NEEDED TO BE TOLD.
He started with these hats, using the original hat blocks but tweaking the details. He introduced new colours. "I began editing and playing around with shorter brims, longer brims, different ribbons," he says. Because he was using the original equipment, he couldn't stray too far from the original shapes, so he had to be creative. "There is so little but, at the same time, so much you can do," says Dean. And as he tinkered, he reinvented the tradition and heritage of the factory, making it accessible to a new generation who were keen to celebrate the way he was breathing new life into an old-fashioned accessory.
They're worn differently. "Traditionally, the hats would have been worn straight-on, but I wear mine at the back of my head," says Dean. "And before, we never made hats for women, but many of these are worn by women." He continues to explore new variations. "We're doing a new range with a felt crown, and then we're using hemp for the brim," he says.
Alfred laughed and shook his head at the new designs. "At first he was a bit shocked and didn't understand it. He's very traditional," says Dean. "He got it quickly, though, and now he loves it."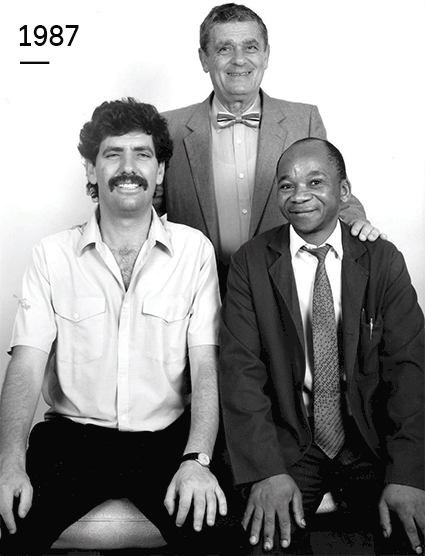 A number of "the youngsters", as Dean calls them, who have joined the factory are the children of people who have worked there for decades. "A lot of people have been working here for 40 years, 30 years… For me it was to keep that going." The skills are preserved and handed on, and Dean quite likes having a new generation to test his designs on.
Dean collaborated with fledgling branding company Jana + Koos to tell the heritage story, naming the new hats after Dean's grandparents. "The brand Simon and Mary was never around," explains Dean. "It was something I created to tell a story I felt needed to be told."
It's a story that has resonated with people globally: Simon and Mary is exported around the world, from Europe to Australia. "Maybe they feel there is more value in buying a Simon and Mary hat that's made in South Africa, and it's got heritage, and it's got a bit of meaning behind it," he muses.
PHOTOGRAPHY: SUPPLIED